Stack New Products - Motorsport
For more than 25 years, Stack's philosophy has been to lead the way in the innovative use of new technologies and provide our customers with advanced, quality engineered products at all levels of Motorsport.
DVLs for Motorsport
Stack's new range of Digital Video-Loggers (DVLs) can be used as a conventional DVR to record video and audio. They can also record data as well as video, in one compact unit, for the ultimate in Synchronized Video-Logging!
Key features
NEW!
Video-Logging with synchronized recording of vehicle data channels.
NEW!
CAN bus interface for direct connection to Dash Displays and Logging Systems or ECUs.
NEW!
User configurable bit-rate up to 20 Mbps - best video image quality in the business.
Up to 50 MBits/Sec for broadcast production use, with POV cameras.

Solid-state, no moving parts, ensuring reliable operation year after year.

Fully waterproof unit (PRO-4 model).

Records MPEG2 video to removable CF card, playable on PC or burn directly to DVD.

Multiple (3 or 4) fully configurable camera inputs.

720x576 resolution @ 25 fps (PAL) or 720x480 @ 30 fps (NTSC).

Widescreen 16:9 and standard 4:3 aspect ratios.


GPS, G-sensor and vehicle data overlays.

Over 9 hours of high quality, full resolution recording (subject to CF card size).

2 channel audio recording.

Automatic record start/stop using built-in 3-axis G-sensor.

9-20V DC powered, 5 Watts, suitable for all motorsport applications.

Quick release sealed CF card door.
External DVR status LED.

Manual record switch as standard.
For further details click here.
We also supply DVR systems for non-motorsport applications. Details here .
Speedometer
Stack's new Electric Speedometers match our range of Professional Stepper Motor and Pro-Control gauges. Simple wiring connections and easy to use push button programming make installation and calibration a snip.
Compatible with most OE vehicle speed sensors, as well as aftermarket speed pulse generators. The instrument includes back-lit Odometer and two resettable Tripmeter displays. (Please note: speedometer requires 85mm mounting aperture)
Key features
Fully user programmable.

LCD odometer with a re-settable trip displays.

Maintenance free through the dial white LED backlighting.

LED illuminated needle for maximum visibility.

Available in black or white dial faces.

Optional sensors available for some cable-drive applications.
Configurable for all negative earth and magneto ignition systems.

For further details click here.

Auxiliary Gauges
Stack's proven technology now available in a 52mm gauge!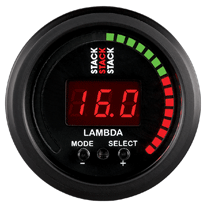 Stack auxiliary gauges are available as:
Pro-Control Stepper Motor Analogue
Stepper Motor Analogue,
Electric Analogue
Mechanical Analogue.

Wide-band Air-Fuel (Lambda) Gauge

Pro-Control Stepper Motor Analogue Gauges
| | |
| --- | --- |
| | Stack's Pro-Control range of Professional Stepper Motor Analogue Gauges brings total control and driver awareness of critical engine functions. The gauges are user configurable with Maximum/Minimum alarms which can be set with one of seven different colours to indicate status. |
Key features
The Pro-Control series has all of the features of the Professional Analogue Gauges plus:




Peak Values recall

Configurable Max and Min full dial alarm warnings

Temperature gauges with built-in "fan controller"

Configurable Pro-Control output for activating accessories eg. fans, pumps, etc (requires relay)


Temperature gauges with built-in "fan controller"
Pressure gauges with built-in "pump controller"
0-5 Volt analogue output for data logger or ECU

Configurable backlight colour

Black dialface when powered off

Professional Stepper Motor Analogue
Accurate and reliable, all gauges (except the digital Air/Fuel gauge) feature LED through-the-dial and needle backlighting and come complete with wiring harness and associated sensor (except for fuel level gauges).
By popular demand, Stack has expanded its range of Professional Stepper Motor Gauges with white and silver dial face options on selected gauges.
The selected white and silver dial face gauges will have white LED backlighting and orange illuminated needles.
Key features
52mm diameter
Fast, smooth stepper motor needle drive sweep movement for excellent readability
Remotely mounted solid-state sensors, keeping hazardous fluids in the engine compartment


Better than 2% accuracy
All-electronic design for maximum reliability
White LED through-the-dial backlighting
White LED illuminated needle

Further details:
Professional Stepper Motor, Electric & Mechanical Gauges
Pro-Control Professional Stepper Motor Gauges
Pro-CAN Gauge System
MFR - Multi-Function Recorder
Stack's NEW data recording system consists of a single multi-function module containing hardware already installed to provide a wide variety of Data Logging functions. The module has the basic functions available out of the box.
The advanced functions can be made operational simply by PIN code activation making upgrading problem-free and convenient.
The STACK ST8956 multi-function system is available in 3 versions: Clubman, Semi-Pro, Pro. The "Clubman" function is perfect for the novice, the "Semi pro" system for more advanced requirements and the "pro" system for extensive measuring tasks.
The system can be used in conjunction with Stack's slimline LCD display (ST8850).
Key features
Bigger recording memory - 32MB as standard
Faster data recorder - up to 200Hz per channel
Better resolution - 10 bit analogue/16 bit digital inputs
More sensor inputs - Up to 45, 14 built-in
Built-in 3-axis +/-6g g-sensor

Optional driver display & sequential shift-light
Built-in CAN ECU link and GPS interface options
Wireless download over WiFi (WLAN) option
Built-in real-time telemetry option
Synchronized video-logging and video-data overlay option

For further details click here.
MFD - Multi-Function Data-Logger
Stack's new multi-function display system is the most flexible, highest specification, lowest priced Dash-Logger available!
It combines the proven benefits of integrated STACK Display systems with the latest STACK Multi-Function Technology.
A clear to read display system with fast, accurate analog dial face and the clear, back-lit LCD display forms the base system; the hardware capabilities are already built-in awaiting PIN code activation.
Key features
Multi-function display function activated by PIN number

Fully configurable LCD

Fully configurable alarm system

14 standard inputs

Integrated acceleration sensors

Integrated Data Recording option
Integrated CAN-Interface option

Integrated GPS-Interface option

Integrated Telemetry-Interface option

Easy configuration via "drag & drop

Integrated switches and alarm lights

Sequential Shift-light (optional)

Expandable up to 45 inputs

Complete system "ready out of the box" including wiring harness, lap time receiver, speed sensor, USB interface and DataPro software.

For further details click here.
MF & MF2. Multi-Function Interface Expansion Modules.
Used in conjunction with Stack's Multi-Function Recorder, Multi-Function Displays and Digital Video Recorder, the Multi-Function Interface Expansion modules allow for the easy provision of additional inputs giving the flexibility to suit even the most complex applications.
ST200/230C Classic Tachometer
Combining the best in modern technology with "Classic" styling to complement the car's original design, these tachometers have all the features of Stack's Clubman tachometer.
Two sizes are available: 80mm and 125mm, both have can be ordered with a variety of dialface ranges.
Key features
All the benefits of the Clubman tachometer
Accurate replica of original classic style instrumentation
Solid-state electronics for exceptional reliability
Stepper-motor needle technology
Chrome style bezel

No backlighting
Peak RPM Tell Tale Memory
Configurable for all negative earth ignition systems and magneto ignition systems
12 Months Competition Warranty
Supplied with mounting bracket, switch kit and manual

For further details click here.
---
Non-Motorsport Applications
Although we have separate areas on this website for our Motorsport and Test/Engineering divisions, many of our products do have possible crossover Applications. Indeed, if you think that a Stack product may be the solution to your needs do not hesitate to contact us to discuss your requirements.